Shopping for farmers and ranchers is not hard.
It is expensive.
The problem I find with most ag guys is that they really don't have many hobbies other than the love of their life…agriculture.
In case you didn't know it, farming and ranching are expensive.
My husband has this wish list that would make many wives faint.
I usually look at it and roll my eyes.
:)
Here is what my husband usually gets.
I'm not putting what he's getting, because amazingly he actually reads my blog whether I ask him to or not.
That's true love ladies.
LOL
Milwaukee Cordless Impact Wrench
When we were dating I always bought him some pretty nifty tools to use when working on equipment.
There were the Robo Grip Pliers that he thought was goofy until the first time he used them.
The shop light that I bought last year that he decided about March was pretty awesome.
One big problem I have shopping for Randy is that he seems to just buy things when he sees them and doesn't drop me any hints.
His favorite find for the year has been the
Milwaukee Cordless Impact Wrenches
.
Yes, I did say wrenchES.
Yes, he has purchases TWO this year.
Yes, he likes them that much just like I like my
Milwaukee "phone charger
."
Here is his product review:
"The big ½ inch wrench has not failed to take off an implement wheel or trailer tire and the battery seems to last quite a while on occasional use basis; however, it is heavy and does not have torque adjustment.
Caution must be used because it does have the capability of breaking bolts and causing grief.
My recommendation is not to give it to the "green" hired man instead give him the smaller version that is available in a 3/8" or ½" drive that does have adjustable torque settings and is much friendlier to the lighter jobs."
Boots
Ok, boots can be expensive too, but remember he is on his feet almost every day and a good pair of shoes can make him feel so much better when he gets home at night.
My farmer has 3 brands that he really likes.
His favorite are
White's
, but one look at their site you will know that these are not cheap boots.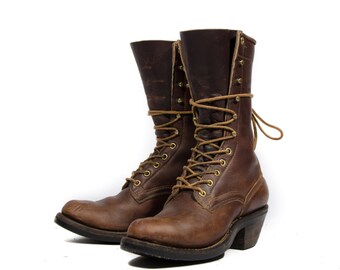 Here is what he has to say about them:
"If you have trouble with your arches and are considering going to a podiatrist, I suggest trying a pair of White's first.
There are lots of different options for soles, heels and styles.
One of the few pairs of shoes I own that I am not looking to the end of the day when I can take them off my feet.
These are not throwaway shoes.
They take several days to get broken in and are completely rebuildable.
When a pair is rebuilt, everything gets replaced except the uppers for about half the cost of a new pair.
Even if you buy the stock boots, they want 10+ measurements of your feet to make sure they will fit properly."
He usually settles for a pair of Ariat shoe boots.
For wet conditions, Muck Boots are his choice.
He likes the Chore Boot that has minimal tread, is calf height, insulated and long lasting.
Approval
Give him the OK to buy that new piece of technology that seems over the top to you.
Things like autosteer and automatic shutoffs for the sprayer or planter.
I have found these things seem overpriced, but do pay for themselves in the end.
Farmer Attire
Like I said in my Farm Kid Gift Guide, we are proud to be farmers.
I love the
shirts
that promote agriculture.
Some of my favorites that I have found this year are from comedian Damian Mason.
Damian also has a good book called Farm Camp, some
bumper stickers
I absolutely love and my boys and I love listening to his
CD's
in the truck.
Multi-Tool
And now the farmer is getting into making this longer, so here is what else he thought I needed to add.
"One of the few tools that is guaranteed for life and they really do actually replace them when they break.
The pliers are actually functional and the wire cutter work well.
The blade requires frequent sharpening as it is stainless steel.
A word to the wise: Insure all knives that you are returning to the factory as they have a tendency to disappear out of the envelope in shipping.
The downside is that TSA still considers it a knife and not a tool."
What are your favorite gifts give to the men in your life?
What should I give The Farmer for Christmas this year?